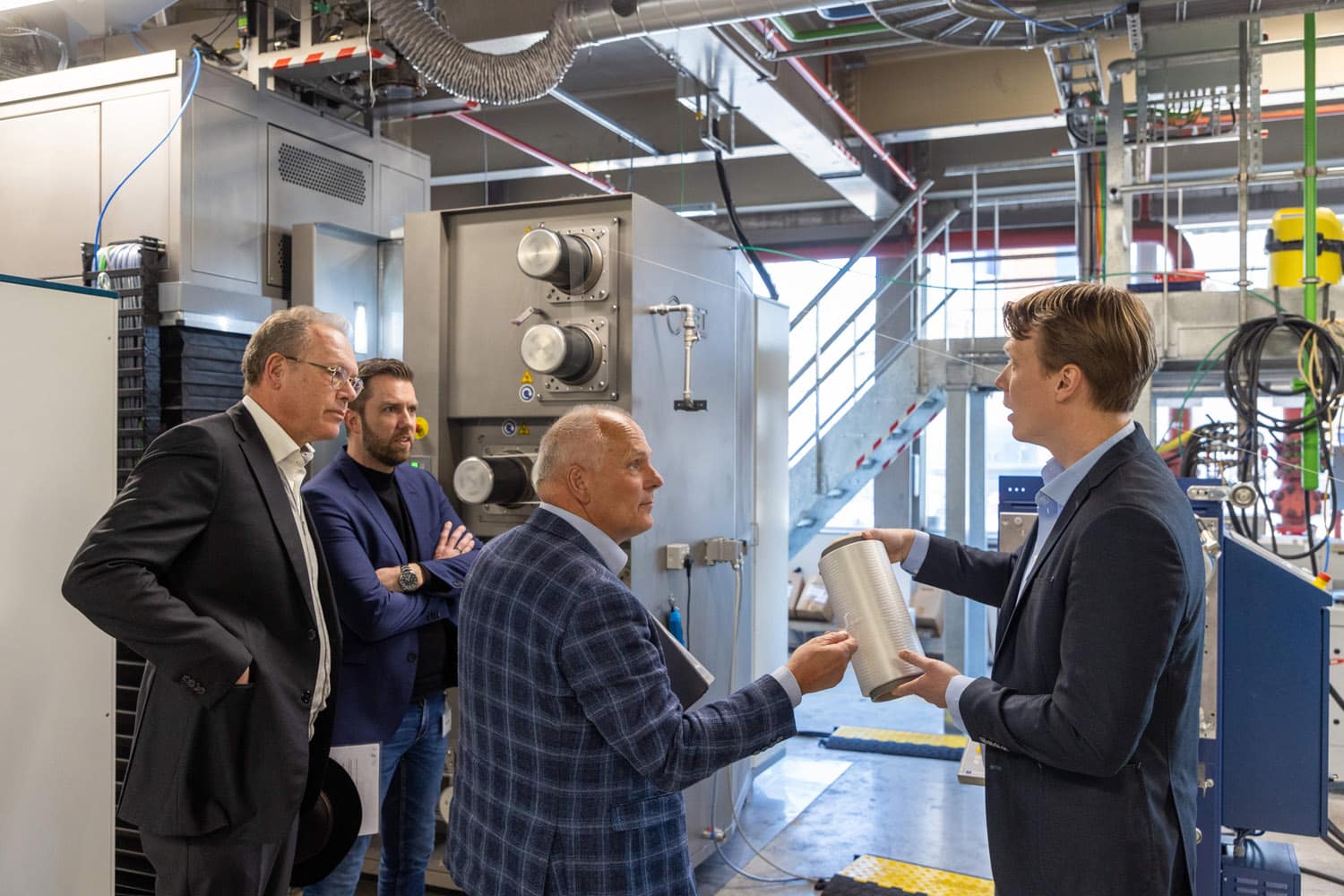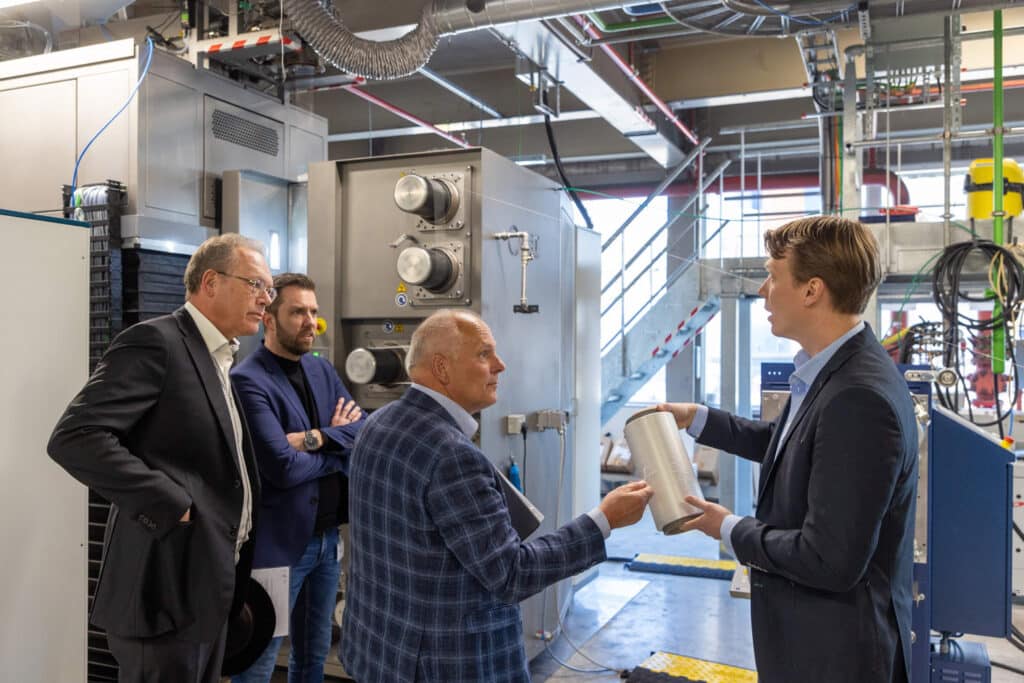 Senbis and SPIC Facilities B.V. are happy to announce the commissioning of a new ultimate flexible pilot plant for multifilament yarns and monofilaments.
In 2020, Senbis initiated an investment programme of €5.5 million through its subsidiary SPIC Facilities B.V.. This investment brought new unique opportunities for the development of sustainable plastics in the Chemport Europe Region, which is leading in Green Chemistry.
The new pilot plant was the heart of the investment programme.
The versatility of this pilot plant with respect to polymers and processes in combination with the scale ranging up to 50 kg/h is unprecedented in Europe, and offers a huge opportunity to bring research developments especially of sustainable plastics, yarns and fibers to the next stage.
The pilot plant has been custom made for SPIC by Fibre Extrusion Technology Limited (FET) from Leeds, UK and KraussMaffei, Munich, Germany.
The pilot plant can be used for meaningful research trials as well as small productions for application field tests such as
the compounding of polymers (with the option of adding additives such as plasticizers or natural fibers)
the compounding and filtration of recycled polymers
the production of drawn monofilaments
the production of multifilament yarns including textile yarns
the production of bicomponent yarns
The pilot plant is fed with two extrusion systems, namely a twin screw extruder and a bico extruder. The twin screw extruder from KraussMaffei has a capacity of 50 kg/h. It is equipped with:
four dosing units
liquid dosing option
side feeder
spinning pump and filtration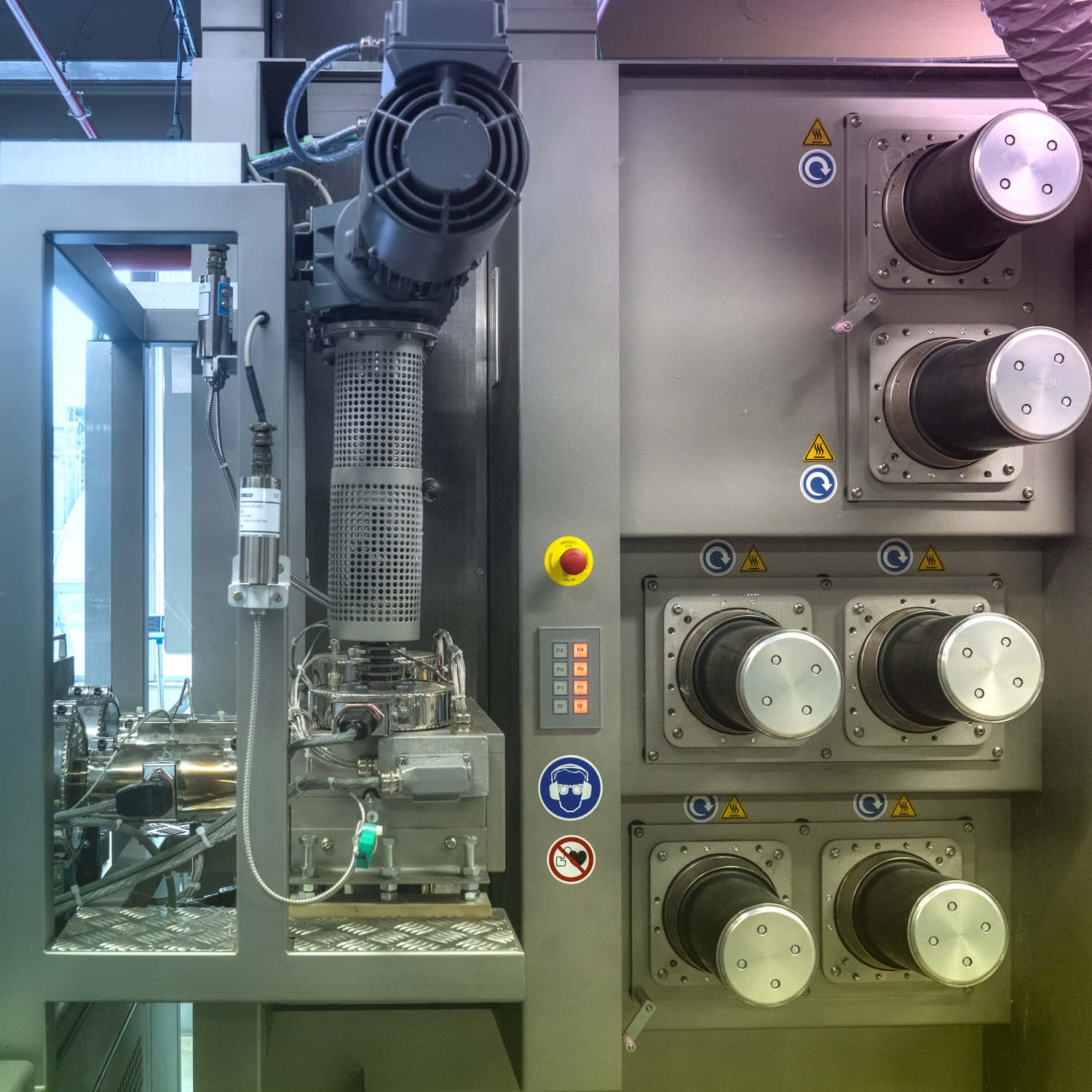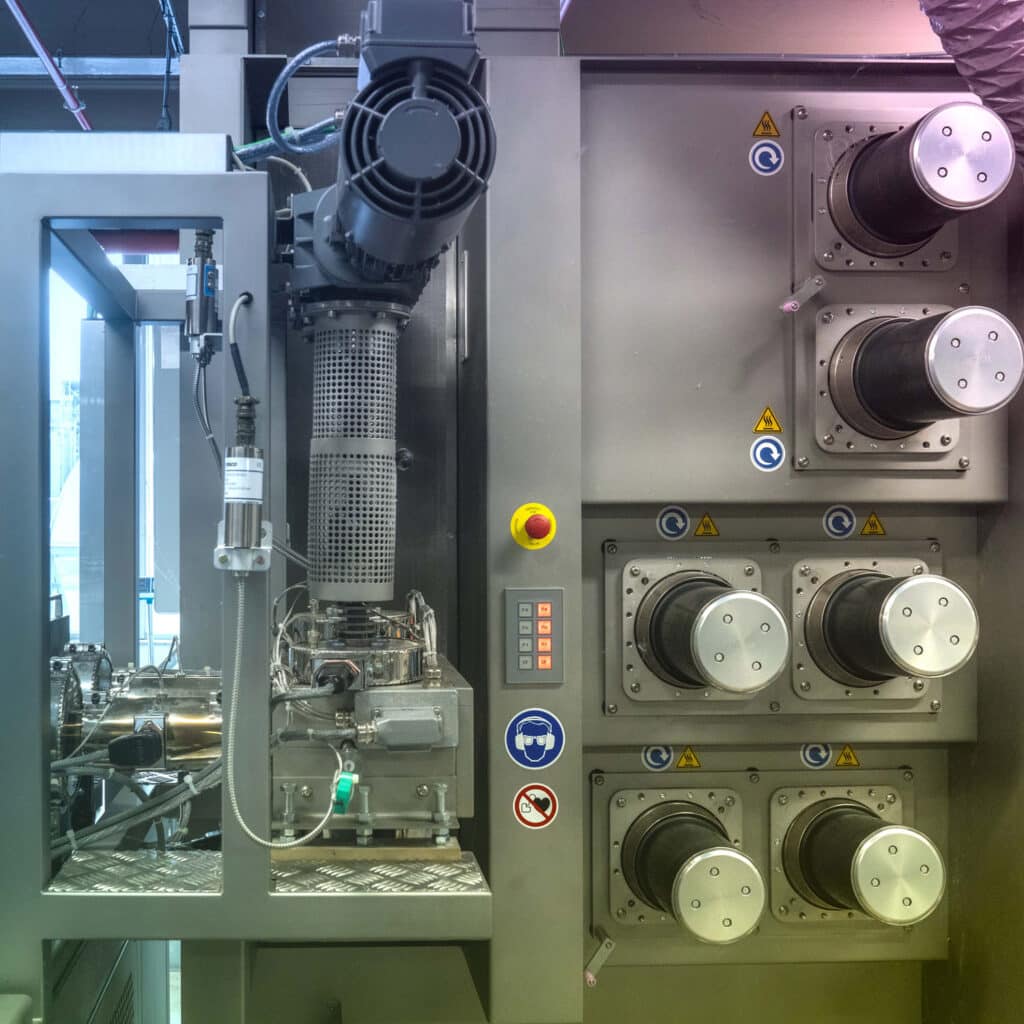 The twin screw extruder can be used in combination with a water bath and cutter for compounding The bico extruder system consists of a small extruder (1-10 kg/h) and a large extruder (4-40 kg/h). It is possible to use one of these as a mono extruder, to use both of them in a bico setup, or to use both combined, allowing to operate the extruder with a throughput ranging from 1 to 50 kg/h.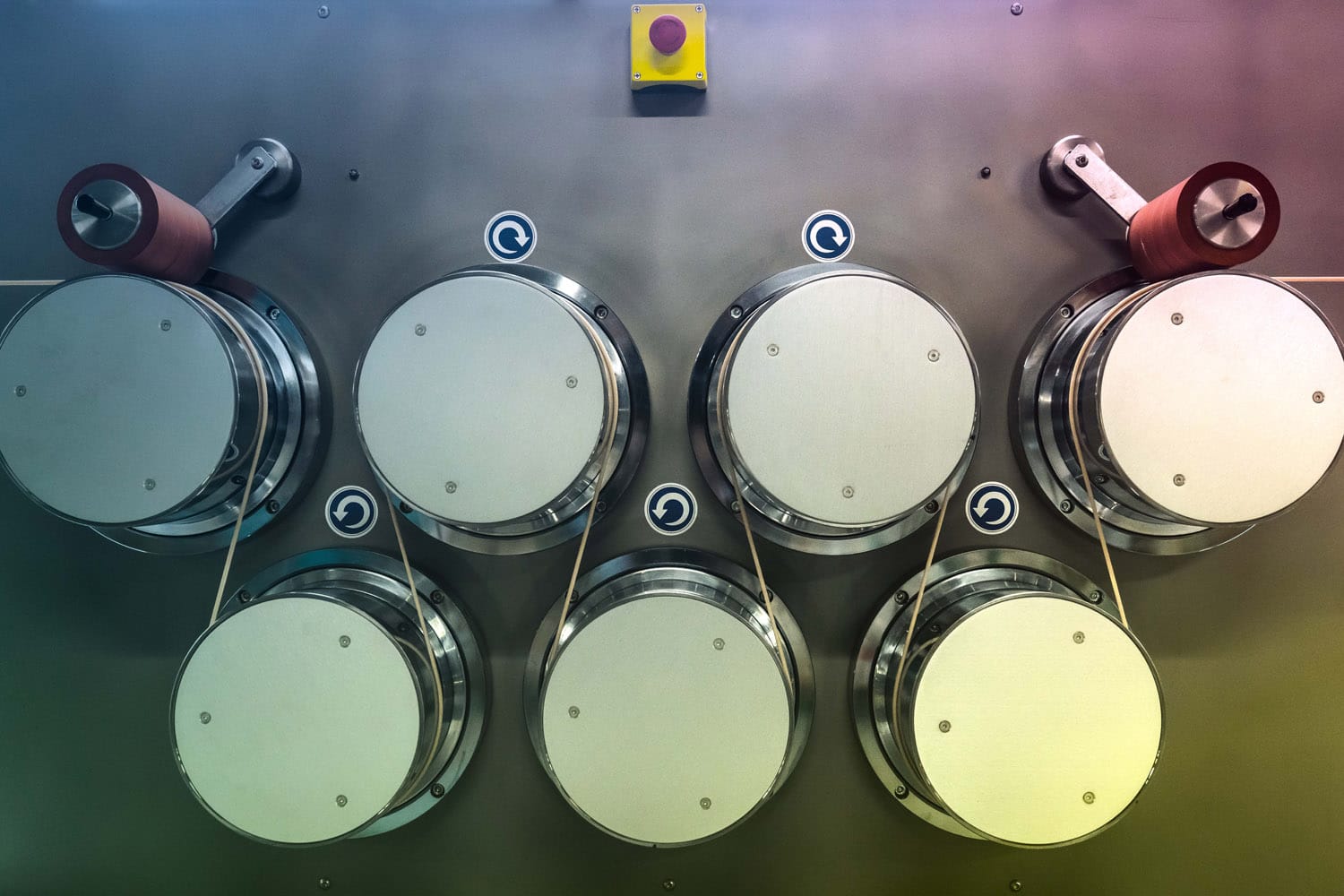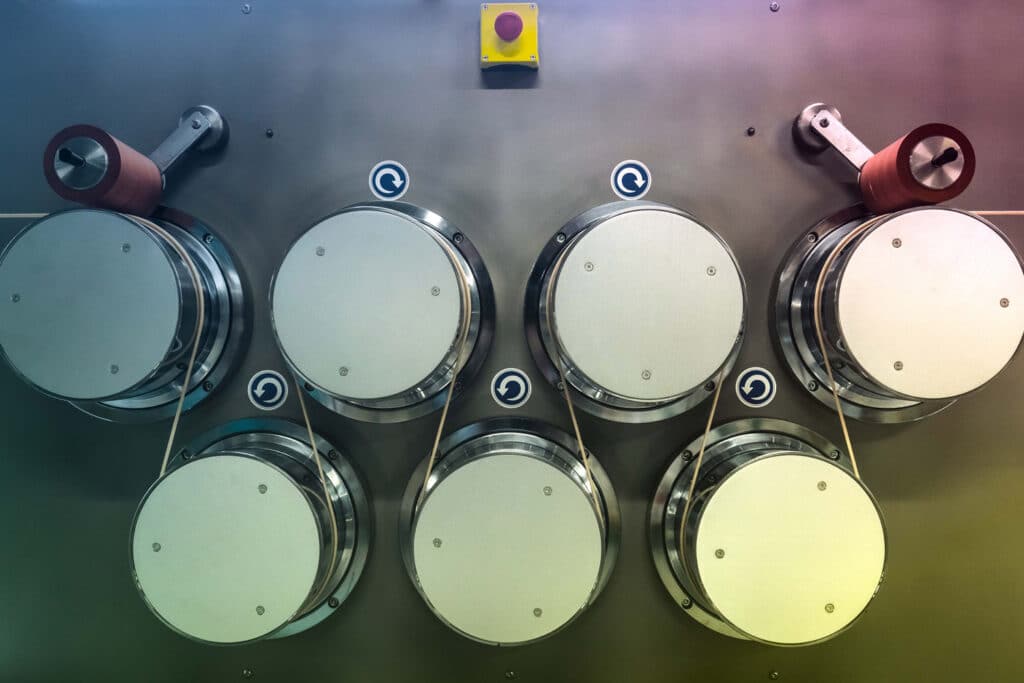 Both extruders of the bico machine as well as the twin screw extruder are flushed with nitrogen, a prerequisite for the processing of moisture sensitive polymers like biopolymers. The maximum temperature of the twin screw extruder is 420 °C and the maximum temperature of the bico extruder is 450°C , which means that almost any polymer can be processed including high temperature polymers such as PEEK and PEI.
The twin screw extruder and the bico spinning machine can be used in combination with a multi stage drawing line to produce drawn monofilaments. Because of the use of a special water bath, heated septets with high drawing force and the large length of the whole drawing line, monofilaments with a diameter up to 4 mm can be produced. A winding unit with 8 positions is present that can be used for a variety of reel sizes.
After both extrusion systems a special water bath can be placed in order to produce filaments for 3D-printing applications with a very good dimensional tolerance. Also in this case winding up to 8 positions is possible.
The bico extruder can also be placed at a height of about 1.5 meter or of about 4 meter. At 1.5 meter it can be used in combination with a blow box and draw panel for the production of textile yarns. At a height of 4 meter is can be used in combination with a blow box, chimney and draw panel. This is the set-up for technical yarns from 100 dtex up to 1100 dtex.
Senbis' own developments have a focus on developing biodegradable alternatives for products that have a high likelihood of ending up in nature, where they cause lasting harm to our environment.
Thanks to this new equipment, Senbis can now look into more challenging applications such as a marine or in-soil biodegradable yarns and filaments such as dolly rope and mussle socks. In addition, we are able to produce our biodegradable trimmerline in-house. In the next years, we expect to bring many more sustainable products on the market and therewith support the Sustainable Development Goals 12, 14 and 15.
SPIC Facilities B.V is offering all its state-of-the art equipment to the market. Senbis Polymer Innovations B.V. can assist you with R&D support.
Interested in a collaboration? Feel free to contact us at: [email protected]