"We are innovators. It is not our ambition to fill our own production plants. Our solutions are either licensed or produced via toll manufacturers on large scale. This gives us maximum flexibility in the R&D phase. "
Before Senbis develops an own product, we investigate if there is sufficient market demand and a profitable business case. The global plastic challenges are massive – so is the list of potential products that Senbis could develop. A lot of products Senbis would like to develop and for which we see a huge theoretical demand face the challenge that consumers are still not willing or incentivized to pay more for a sustainable alternative. In this case there is unfortunately also no business case for us that justifies the investment for the development of these products.
In most cases, Senbis does not look out for products herself, but potential customers reach out to us and ask if we can help to develop a sustainable solution. This gives us the advantage that we have experienced market players that give feedback during the development phase and can act as a launching customer when sales can start.
In this market research phase answers must be given to some critical questions:

Once an investment decision is made after the market research phase, the R&D phase starts. This is fully executed by Senbis Polymer Innovations B.V.. Our R&D company has decades of experience and relies on a golden combination of:
In its development Senbis Polymer Innovations follows a structured R&D cycle, which includes three sequential steps that are being iteratively followed to achieve the desired final product properties. All steps can be performed by Senbis in house.
Polymer selection & modification
This is usually the starting point. Depending on the requirements of the applications, specific (bio)polymers are selected by our team of polymer experts. Often a commercially available grade is not sufficient to meet the demands. In these cases Senbis can develop compounds to fit the purpose. Also additives and treatments (such as post-condensation) can be suggested to either improve processing or to come to better end properties.
Senbis operates different extrusion technologies on a laboratory and pilot plant level. We have in depth knowledge of these processes in combinations with the use of many different (bio)polymers. Our technologies include:
For more information about pilot plant facilities, which are openly offered to the market, please click here.
Analysis of target properties and physical structure
After the polymer has been processed into the desired application shape, we analyze both the target product properties as also quite often the physical structure. Analyzing the physical structure gives input for changing directions for both the polymer selection and modification step as the processing step. Properties like crystallization rate, type of crystals, crystal orientation, size of amorphous domains etc. are all influenced by both polymer type and processing conditions.
Please note that Senbis Polymer Innovations also offers these facilities as also the complete R&D cycle to third parties. If you want to learn more about our analyses, please click here.
Field testing is an important step in our development process. It starts after the first R&D phase but it is typically not the last step. During the field tests crucial information is gathered about the performance of a product. This gives input for more R&D work in order to come to a product version that can be up-scaled and have a first market introduction.
During the earlier market research phase we already try to identify testing partners. Preferably this is performed or supervised by a distributor that is interested in our new product. This gives Senbis assurance that there is an interest in thorough testing and it gives the distributor (or customer) already first hand insights in the product performance. Our partner then also has the unique opportunity to be the first to introduce such a new innovative product into the market.
Are you interested in testing innovations of Senbis? Do you have ideas for new products? Please contact us!
Below you can see a picture at our first field test in Erica, the Netherlands, where we installed our first GreenFill pilot field in 2019.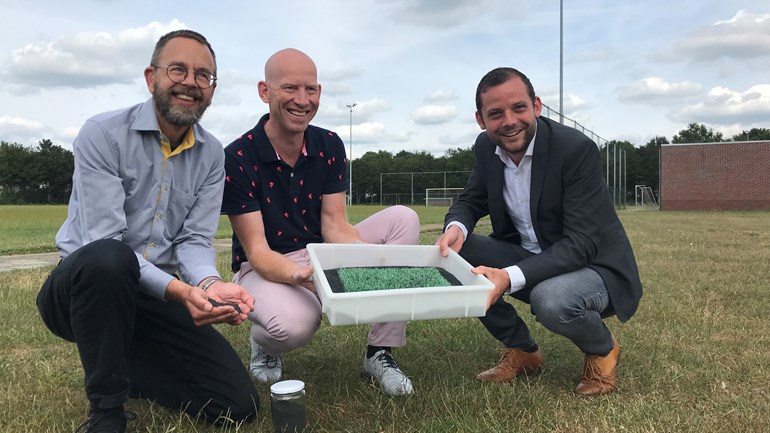 Once we have successfully developed and tested a product with the end-customer the research and developments continues to the up-scaling phase. Just because we have developed something successfully on a lab-scale does not mean that we can also successfully produce that product on industrial scale machines. In this phase, we have to translate the lab-scale results to industrial scale production conditions. In many cases, new challenges occur that we did not see before.
For up-scaling we require access to larger machines. Senbis is a founding father of the Sustainable Polymer Innovation Cluster (SPIC- Emmen). This cluster offers a wide variety of polymer processing equipment and services. This enables us to quickly find the right technologies and partners for up-scaling purposes.
Bellow an overview is given of the in-house technologies of SPIC Emmen. Please visit the website at: www.spic-emmen.com.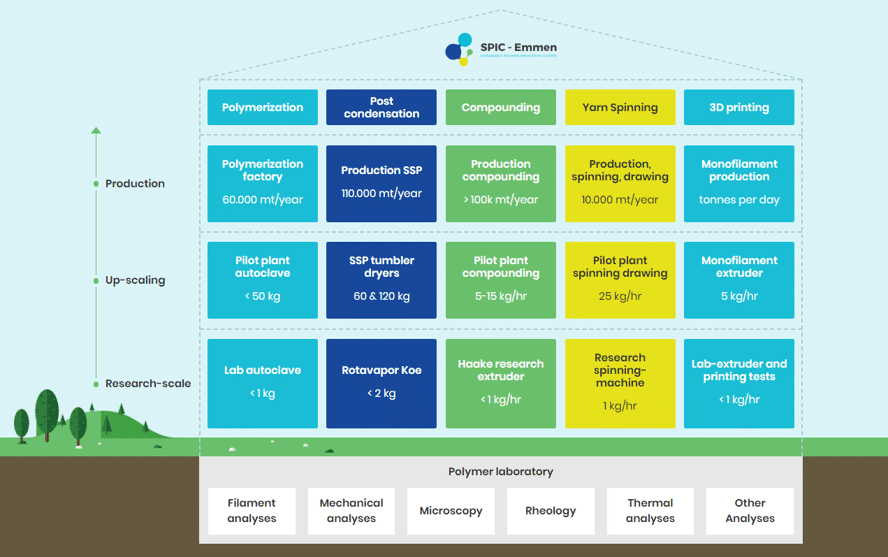 Senbis does not operate extensive and capital intensive production machinery. Instead Senbis mostly still realizes up-scaling internally but then starts the large scale manufacturing in cooperation with competent toll manufacturers. Throughout the years, we have gained a very wide industrial network. Therefore we are quite successful in finding the right production technologie that fits our product needs.
Senbis owns the intellectual properties regarding the developed products. Recipes and machine settings are shared with the toll manufacturer under confidential conditions. Before market entry, first production trials are executed and both the process as the products are tested and standardized in accordance with our quality management system.
One example of a successful toll manufacturing cooperation is that of Senbis with Morssinkof. On our industrial park in Emmen the company Morssinkhof operates yarn spinning machines (former AKZO/Diolen Industrial Fibers). Morssinkhof produces rPET yarns (fully drawn yarns) in this factory and has a cooperation with Senbis which allows us to produce our PLA yarns right next door. We can even perform quality control in our own textile laboratory during the production.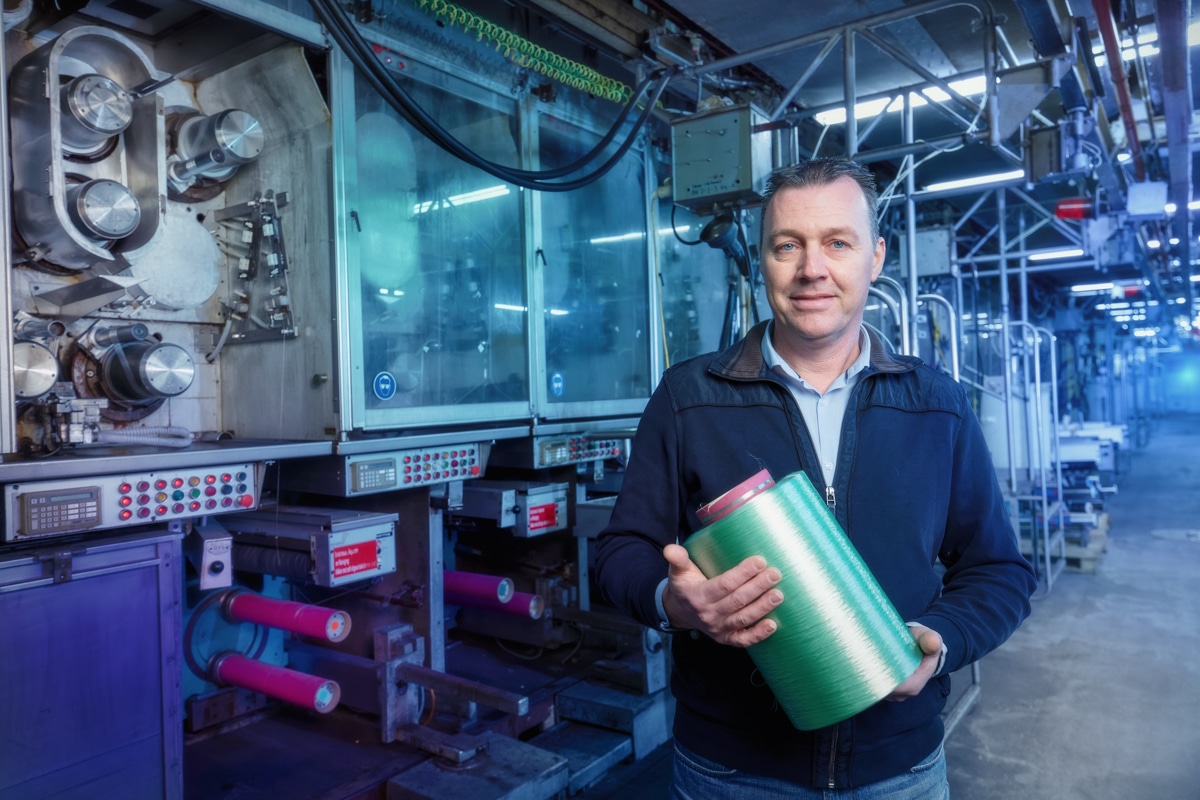 Senbis often develops and sells sustainable products that provide a solution in very specific markets. We usually don't have the ambition to start supplying end customers in such specific markets. Instead Senbis likes to work with competent distribution companies that have a great network in the specific industry. This allows us to quickly gain market share, reach sufficient economies of scale and allows us to keep having a focus on our core competences: developing new sustainable solutions.
For the horticulture industry, Senbis works exclusively with the company Royal Dutch Brinkman who sells our PLA rope under the brand name BioValent. Brinkman is a very competent and knowledgable partner in this sector, with offices and facilities around the world.
If you are interested in the large scale distribution of one of our products, or you see a new opportunity that is in line with our business, please contact us.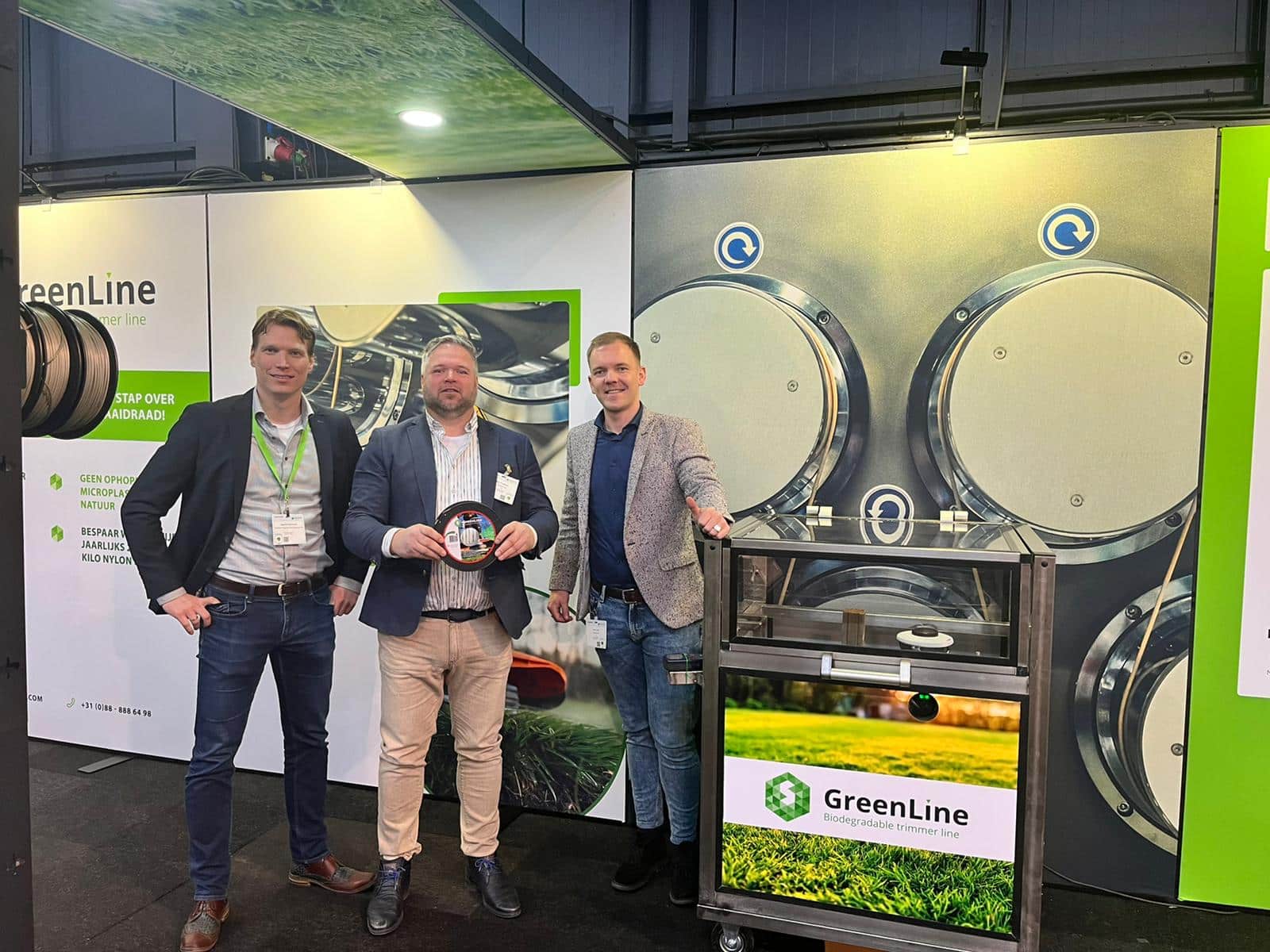 Picture above: Launch of GreenLine in 2022 together with our distribution partner Poel Bosbouw.