Top quality polymeric infill, but no microplastic pollution
The sports performance, playing comfort and durability of artificial turf pitches are largely determined by the infill. GreenFill has been specially designed to deliver top performance for both the athlete and the field owner.
The grain is produced industrially and as a result is of a uniform quality. It is soft and elastic and provides excellent cushioning. This increases the playing comfort (such as an excellent sliding performance) and prevents injuries. Thanks to the constant size and high wear resistance, grit formation is out of the question. The infill does not float or pulverize. Because of that, the drainage capabilities of the artificial turf field remain guaranteed and a refill of the pitch is limited required. GreenFill is weather resistant, guaranteeing a playable field all year round, regardless of the weather conditions.
Last but not least, GreenFill  degrades in soil within a year (in accordance with ISO17556), thus avoiding microplastic pollution outside of the pitch, but without jeopardizing the required long life time on the pitch.
GreenFill is manufactured for specific application in artificial turf for football. Therefore, it doesn't contain any problematic substance and has no negative side effects. GreenFill can be applied anywhere and without restrictions.

Soft and elastic: designed for sliding
Excellent impact attenuation: better for the joints
Wear-resistant and durable: long lifespan (10 years)
Weather resistant: heat and frost
Doesn't pulverize: no dust or floating
Polymeric infill without environmental and health issues
Just like other polymeric infills, GreenFill provides excellent technical performance. GreenFill is being industrially produced, the material is recyclable and in-soil biodegradable. It therefore does not lead to waste of natural resources, nor to microplastic pollution, smell or leaching out of toxic elements.
Conventional polymeric granules do not degrade in nature. As a result, they cause microplastic pollution when they migrate from the artificial turf field to the environment next to it. This problem will be exacerbated when the infill contains toxic substances, which GreenFill doesn't.
When applying GreenFill, field owners don't have to worry about contaminating the soil, as fungi and bacteria present in the soil naturally, convert the infill into humus, water and carbon dioxide. These fungi and bacteria do not appear on artificial turf, hence the decomposition of the infill only happens in the natural environment outside the field. That is why GreenFill assures the same long life time on the pitch as conventional polymeric infills.
On top of all this, GreenFill can be recycled at the end of it's lifetime, thus reducing the need for scarce natural resources.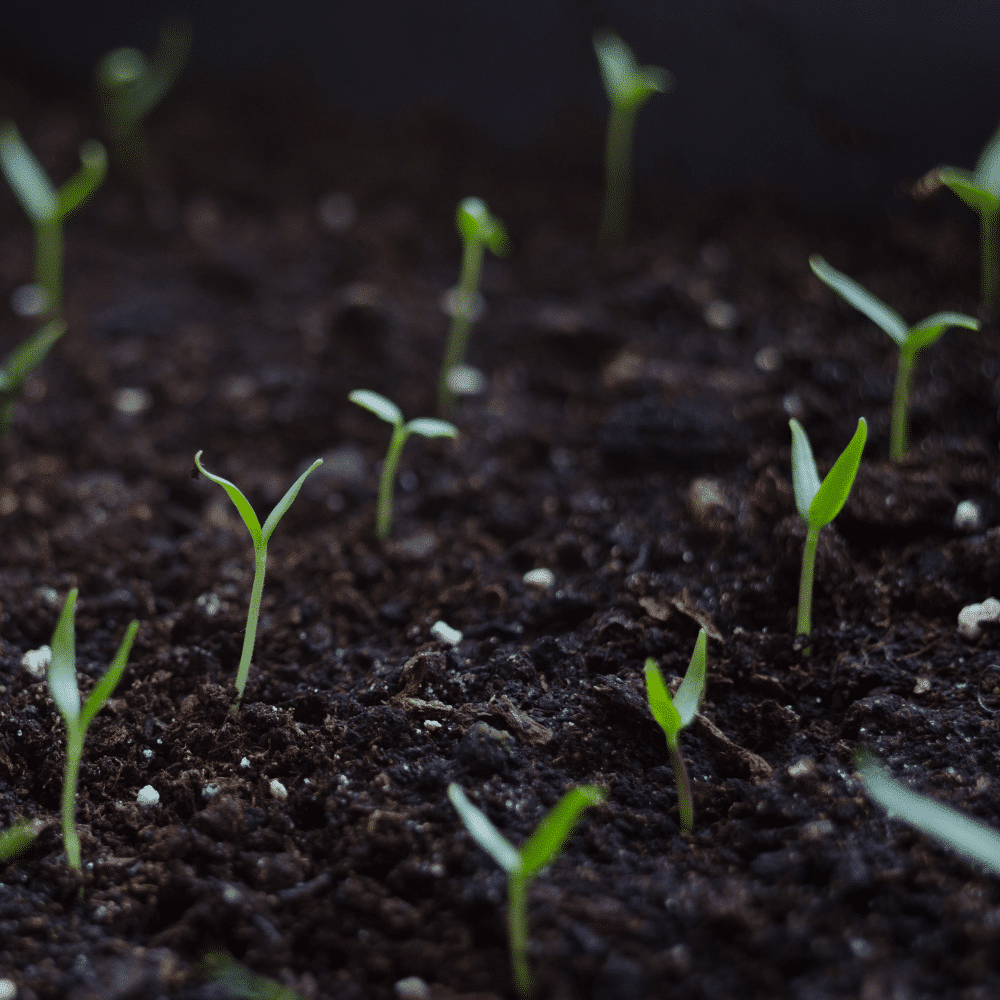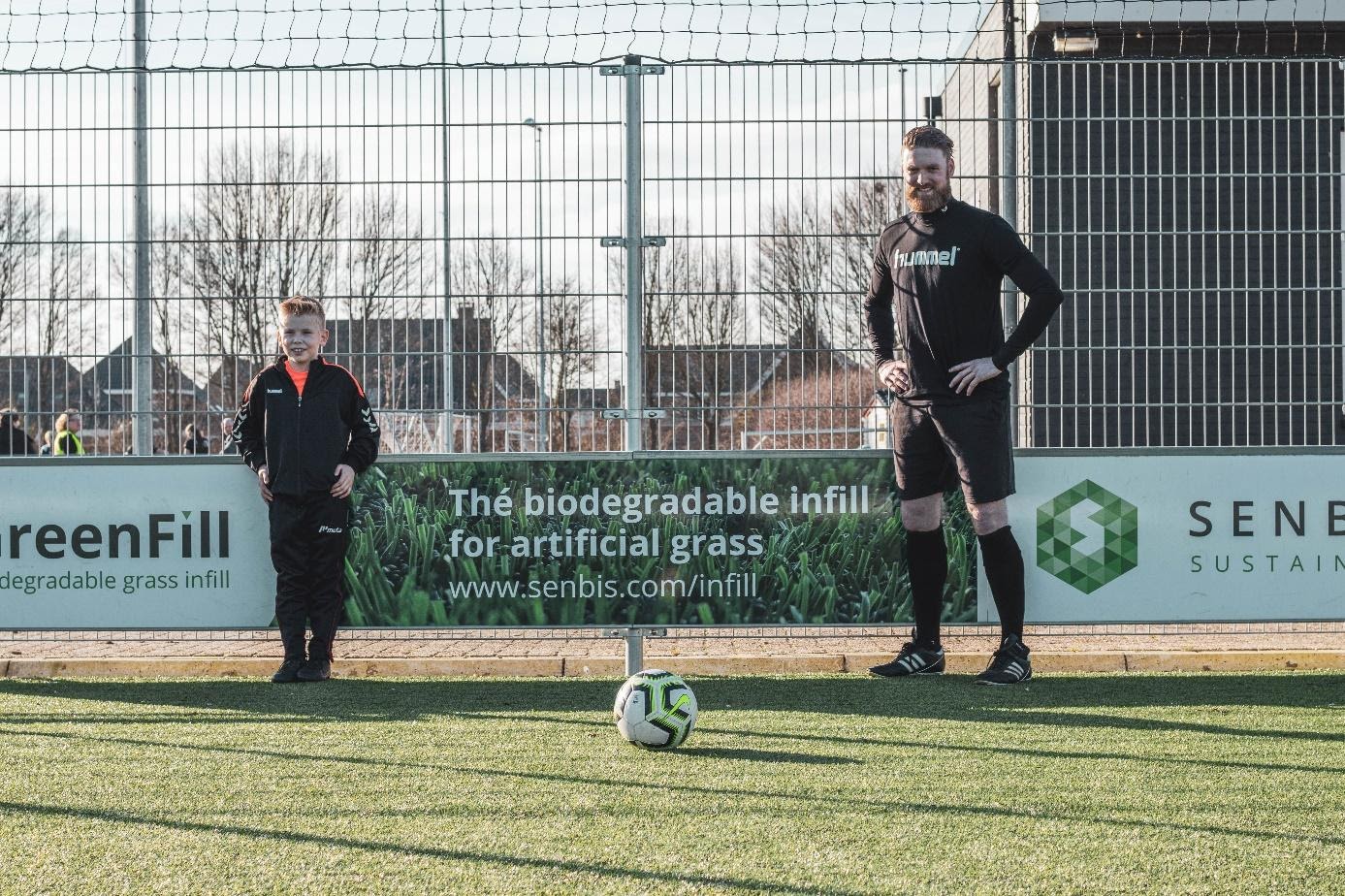 Compostable artificial turf
no more waste problem
GreenMaxx is a fully compostable artificial turf system. At the end of their functional life, both the yarn and the backing can be composted. This innovation was developed by Senbis Polymer Innovations from Emmen, the Netherlands, on request from the Dutch Ministry of Health, Welfare and Sport and in collaboration with TenCate Grass, Edelgrass, Antea Sport and Sweco Nederland.
GreenMaxx is the solution to the growing waste problem caused by end-of-life artificial turf, which is considered undesirable both at home and abroad. Because conventional artificial turf systems are made up of different materials, it is difficult or impossible to disassemble them sufficiently to make new artificial turf products. GreenMaxx, on the other hand, is both recyclable and compostable. Even if the carpet is not fully recycled, it still would not produce a plastic waste mountain or environmental pollution. The material can be converted to compost that can be used elsewhere.
From August 2021, EHS'85 in Emmen, the Netherlands, will play football on the world's first fully compostable artificial turf pitch. The top layer consists of the GreenMaxx mat filled in with GreenFill. Both products meet all requirements and deliver good sports technical performance. In addition, both components are fully compostable.
We provide sustainable polymer solutions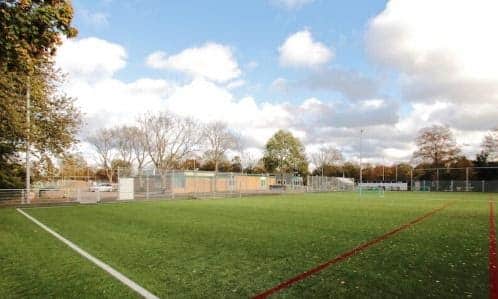 SV DHL in Gemeente Delft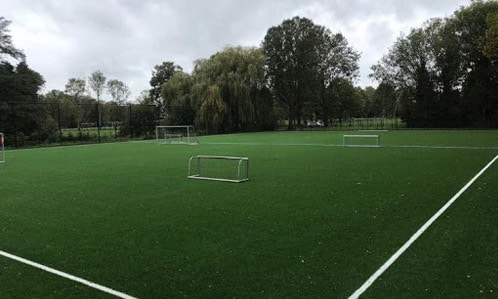 HC&FC Victoria 1893 in Gemeente Hilversum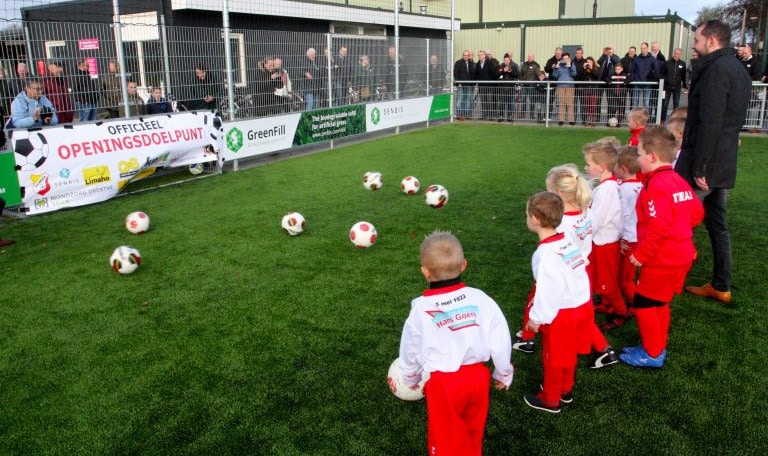 SC Erica in gemeente Emmen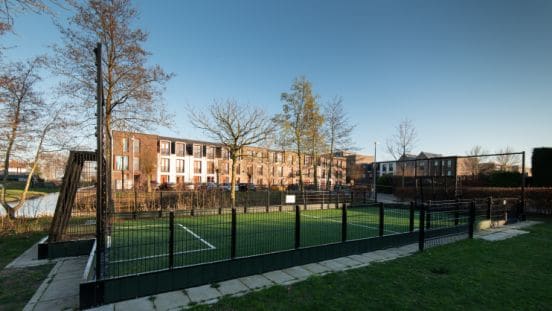 EHS'85