Marine degradable mussel socks
Industry and
application area
Fully marine degradable braided net, also called a sock,  for the cultivation of mussels.
More than 95% of all mussels cultivated worldwide are grown on ropes that are hanging in the sea. In order to ensure that the mussel seeds adhere to the rope a so called mussel sock is pulled over the rope, leaving enough space between the rope and the sock for the mussels to grow. After about one month the mussel sock is no longer required to support the mussels and should then start degrading in order not to hamper the further growth of the mussels.
Environmental
disadvantages of cotton
Usually mussel socks are made from cotton. Cotton has several disadvantages for this application. The degradation time can only be somewhat adjusted by changing the thickness of the yarn. In some areas where the mussels grow slower due to the different water environment the socks degrade too fast leading to a loss of harvest. In other areas where the mussels grow faster the socks may hamper the growth of the mussels.
The use of cotton also has environmental disadvantages. Growing cotton requires a lot of water and the use of pesticides. The customer of mussel farmers who seek to sell mussels with a biological label therefore ask farmers not to use cotton in the growing process.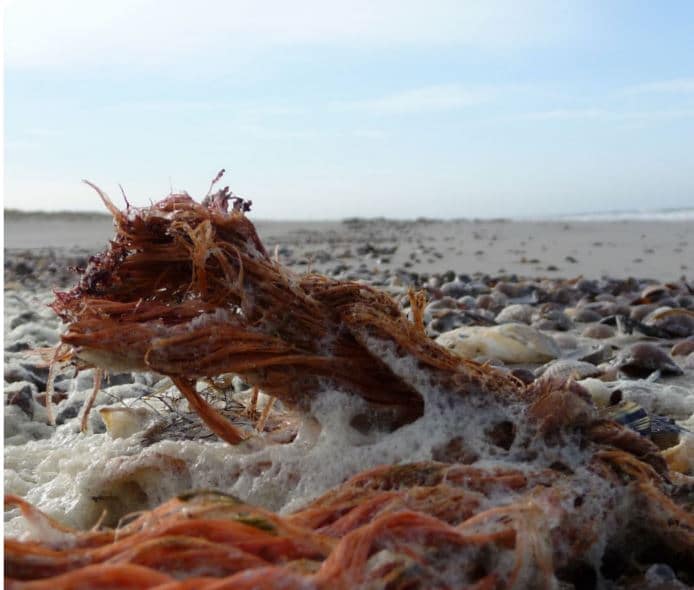 We provide sustainable polymer solutions
Senbis has successfully developed a marine degradable yarn that can serve as an alternative to cotton for this application. In cooperation with Machinefabriek W. Bakker, a supplier of equipment to the mussel industry and Blackshell Farm in Ireland a mussel sock was developed.
The challenge of this project was to develop a yarn that degrades in about one month time in sea water while meeting the mechanical properties of this application. The combination of degradation and mechanical properties could not be realized with existing polymers. Senbis therefore developed a yarn by making a compound based on thermoplastic starch and other biopolymers.
Please contact us if you are interested in purchasing this marine degradable yarns or contact Machinefabriek W. Bakker if you are interested in buying mussel socks.